BRIANNA SANDERS, '09 - SPOTLIGHT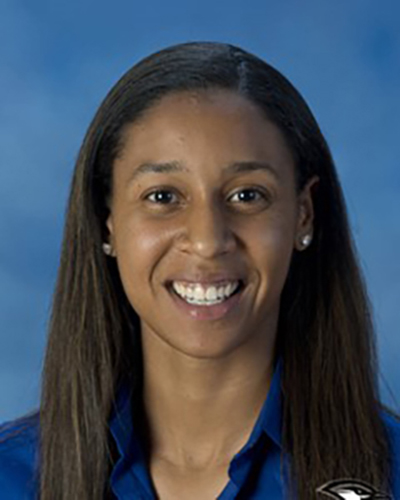 Brianna graduated in 2009.  She played 2 years of Volleyball and was a 4-year starter for the Girls Varsity Basketball team.   As a freshman, she helped guide Princeton's Girls Varsity Basketball team to an undefeated conference championship season and an overall record of 23-1.  She was 2nd team All-GMC as a Freshman and a senior.  She was a 1st team All-GMC selection as a junior.   She was named to the All-District Team and the All-City Team in 2007.  She helped Princeton to a 57-13 overall record in her 1st three years, averaging 14.7 points, 5.0 assists, 5.0 rebounds and 3 steals per game.  She tore her ACL twice during high school, causing her to miss half a season her sophomore and senior years.  Despite those injuries, she still received a scholarship to play basketball for The Ohio State University. 
She played 2 years for The Ohio State University, before tearing her ACL a third time.  She decided to switch gears and went from playing to coaching.  She served as a student assistant women's basketball coach for Ohio State during her junior year.  She spent her senior year, as an assistant coach for Reynoldsburg High School in Reynoldsburg, OH.
After graduation, Brianna accepted a job as Director of Basketball Operations at University of Tennessee-Chattanooga.  This job reunited her, with her former Ohio State coach, Jim Foster. 
Brianna is the daughter of Steven and Carmen Sanders.  She has 3 sisters (Tanisha, Sasha and Serentiy) and one brother, Trey.  Her mother, Carmen (Darks), is a 1982 graduate of Princeton High School.  Her brother, Trey (Tubbs), will graduate from Princeton High School in 2016.